Press Release
Winners Announced SDG Youth Photo Competition
15 June 2022
First UN and Business Mauritius SDG Youth Photograph Competition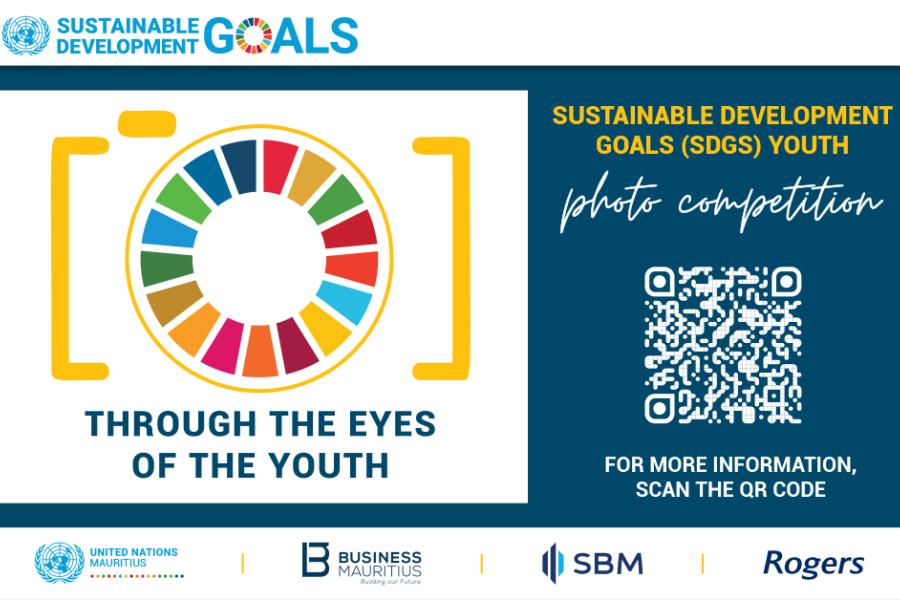 15 June 2022 - The United Nations Resident Coordinator's Office in partnership with Business Mauritius is pleased to announce the winners of their first photograph competition, "Narrating the Sustainable Development Goals through the Eyes of the Youth". The contest was an opportunity for young people around Mauritius to submit entries that illustrate why the Sustainable Development Goals are important to their lives and to their country.
Involvement in arts and culture empowers young people to get their voices heard because artistic endeavours can encourage people to look at challenging issues in a different way, speaking straight to our hearts, and igniting imaginative and innovative solutions.
Open from 21 February until 30 April 2022, the contest received over 300 entries from young participants across the Republic of Mauritius. They were reviewed by a committee of 8 judges who selected 3 winners and 7 runner-ups for two age categories minors (12-17) and youth (18-25).
The winners for each category are:
Rank
Minor Category (12-17)
Youth Category (18-25)
1
Muhammad Hashim Kheedeer
1 Anoja Luxmi Devi Appadoo
2
Camille Wiehe
2 Luiciano Roussety
3
Cooper Preston

3 Group entry:

Ruttun Nadia Bibi Sumayyah
Koodoye Jhasvee
Luchmiah Divya
Davishtee Ramalingum
Ramsaran Souvina
Sabapathee Jeshinee
Bholah Bhavna

4
Camille Wiehe
4 Luiciano Roussety
5
Marie Ange Abbigayle Claite
5 Roushdana Bibi Saniyya Aungnoo
6
William How
6 Luiciano Roussety
7
Sanniah Allyboccus
7 Nathaniel Roland
8
Elodie Affouan

8 Group entry:

Teesha Boojhawon
Nandinee Nundoo
Ritika Teeluck
Trisha Balchurn
Trishna Balchurn
Nekhi Bhoyroo

9
Abdur-Rahmaan Muhammad Bin Nadeem Boodun
9 Mahatma Vidura Sukhari
10

10 Group entry:

Teesha Boojhawon
Nandinee Nundoo
Ritika Teeluck
Trisha Balchurn
Trishna Balchurn
Nekhi Bhoyroo
SBM Bank and Rogers Group have kindly provided sponsorship through the donation of generous prizes to the top 10 competition winners for each age category.
Cash prizes for winners through the SBM Amigos voucher:
1st – MUR 50,000
2nd – MUR 30,000
3rd – MUR 20,000
Top 10 winners for each age category will receive an organised visit from Rogers Group to Bel-Ombre Biosphere to showcase various SDGs, including the Yellow Submarine (Goals 4, 14 &17), Bis Lamer at CBeach (Goals 4, 14), World of Seashell Visit (SDG 14), giveaway of local produce from Agria (SDG 12), glass bottom session (SDG 14), rehabilitation of River Jacotet where each young person an plant a tree (SDG 15) and visit to Feypalmis (SDG 12).
UN entities involved in this initiative
RCO
United Nations Resident Coordinator Office