Press Release
Launch of PAGE UNEP-FI and UNIDO Reports
25 May 2022
25 May – The Minister of Industrial Development, SMEs and Cooperatives Mr Soomilduth Bholah and Her Excellency Ms. Christine N. Umutoni, United Nations Resident Coordinator for Mauritius and Seychelles officially launched two new reports during a hybrid event on May 25th in Balaclava, organized in collaboration with UN-PAGE (Partnership for Action on Green Economy) and the UN Resident Coordinators' Office.
With funding and technical assistance from Partnership for Action on Green Economy (PAGE) the reports entitled Greening the SMEs: Improving SME Access to Green Finance in Mauritius; and Industrial Waste Management - Cost Structure Review in Mauritius prepared respectively by UNEP-FI and UNIDO responded to the Mauritian Government's commitment to transform Mauritius into an environmentally sustainable and inclusive country.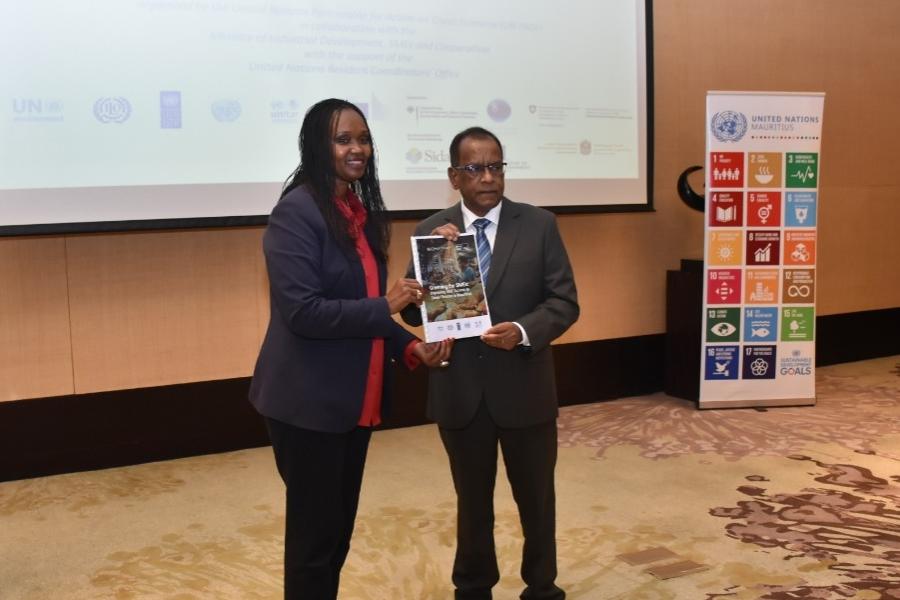 Since 2014, to date Partnership for Greeb Economy (PAGE) has worked closely with the Mauritian Government to achieve its national vision which sets a clear path for a transition to an inclusive green economy. The Ministry of Industrial Development, SMEs and Cooperatives has been an instrumental partner in the completion of the two reports that have been launched today.
The UN Resident Coordinator Her Excellency Ms. Christine Umutoni in her address recognized that
"Mauritius is setting an example about how to win this fight against climate change," by looking to scale up green financing and embracing the idea of circular economy in its industrial waste management.
She went on to assure the full support of the UN family in supporting the Government of Mauritius in mobilising financial and technical resources to help Mauritius achieve its climate objectives and build resilience. She applauded the model of PAGE where many agencies come together to work on a joint program. This ensures coherence and better efficiency.
The Honorable Soomilduth Bholah, Minister of Industrial Development, SMEs and Cooperatives pointed out that both the reports come at an opportune time to address challenges in the global area, which impact two key growth engines of the Mauritian economy, SMEs and manufacturing.
The Honorable Minister thanked the UN PAGE partners "for their strong commitment in supporting Mauritius in its endeavor to place sustainability in the centerpiece of its national development goals."
The publication Greening the SMEs: Improving SME Access to Green Finance, by UNEP-FI seeks to assess the level of integration of environmental sustainability in the financing of SMEs in Mauritius. It examines the current state of green finance frameworks, practices and structures relevant to the financial sector and the potential to scale up green financing for the SME sector allowing increased access to green finance opportunities.
The second publication by UNIDO: Industrial Waste Management - Cost Structure Review by UNIDO aims to enable an effective industrial solid waste management (SWM) and facilitate the development of a Circular Economy for the enhancement of enterprises´ competitiveness. The activities carried out along the study respond to part of the recommendations of the previous 'Industrial Waste Assessment in Mauritius' report that PAGE produced in 2016-2017, with the collaboration of the then Industry Division of the Ministry of Industry, Commerce & Consumer Protection, UNIDO and Business Mauritius. Overall, it recommended to integrate the management of industrial waste (IW) with municipal waste with similar characteristics and to proceed towards the definition of the cost structure and policy gaps in several segments.
In continuation with Industrial Waste Assessment UNIDO study, the following sectors were assessed: textile and wearing apparel, chemicals and chemical Products, food products (Poultry, Seafood, Beverages and Bottling sub-sectors), printing and reproduction of recorded media and construction materials.
About PAGE
PAGE is an inter-agency UN initiative established in 2013, bringing together the expertise of five UN agencies – UNEP, ILO, UNIDO, UNDP and UNITAR, which work closely with national governments to provide a comprehensive and coordinated package of technical assistance, policy support and capacity building services to interested countries to develop, adopt and implement green economy policies and strategies.
UN entities involved in this initiative
ILO
International Labour Organization
UNDP
United Nations Development Programme
UNEP
United Nations Environment Programme
UNIDO
United Nations Industrial Development Organization
UNITAR
United Nations Institute for Training and Research