Story
Tourism in a pandemic world: tackling plastic pollution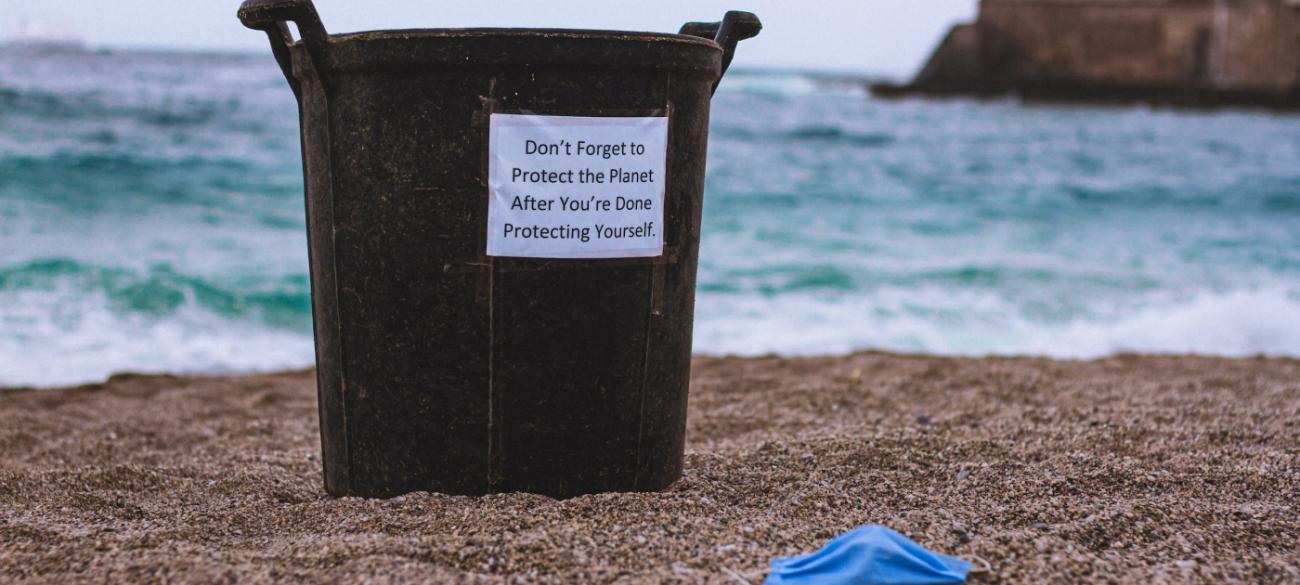 With vaccination programmes underway, many countries are now poised to welcome travellers
With vaccination programmes underway, many countries are now poised to welcome travellers – and are more than ready to compensate for the recent decline in tourism revenue. Accounting for 10.4 per cent of global GDP and 1 in 10 jobs in 2019, travel and tourism will be critical to job creation and economic growth, as the world recovers from the impact of the COVID-19 pandemic.
But while businesses seek to recoup pandemic-related losses and tourists yearn to travel again, there is a caveat. A joint report from the United Nations Environment Programme (UNEP) and the World Travel and Tourism Council (WTTC) points to the need for coordinated actions, policies and infrastructures to drive the industry toward circularity. 
Studies show that the world is only 8.6 per cent circular. While this is disappointing, it also means there is huge space for circularity and sustainable consumption and production to bring rapid and extensive gains.
Given the potential and challenges of travel and tourism post-COVID-19 – sustainability will be a defining issue.
Plastic is a problem.
Alongside climate change and biodiversity loss, pollution is part of the triple planetary crisis the world now faces. Every year, humans produce 300 million tonnes of plastic waste, including 11 million tonnes that eventually wind up in the ocean. Ninety-nine per cent of plastic is the product of chemicals derived from dirty, non-renewable sources. Most of it never really disappears. Instead, it becomes smaller, with particles being swallowed by fish or farm animals and eventually consumed by humans in their food and tap water.
Nonetheless, plastic continues to grow in popularity, with production increasing by more than 22 times in the last 50 years. By 2050, the plastic industry could account for 20 per cent of the world's total oil consumption. Plastic pollution could also make up 13 per cent of the total global carbon budget, and there could be more plastic than fish in the ocean.
Add to this the unanticipated impact of COVID-19 – from the volumes of protective equipment the world now uses and discards every day to the interruption of policies asserting the use of single-use plastic products in the first place. It is a perfect – plastic – storm.
Travel and tourism can be a catalyst for positive change.
The link between plastic and tourism is no coincidence. Single-use plastic products are an efficient and inexpensive way to comply with health, safety and hygiene standards while also ensuring worry-free holiday experiences to guests.
But all the little things we take and toss add up. In terms of travel and tourism, a return to "business-as-usual" could produce an increase of 251 per cent in solid waste, through 2050.
Given the potential of travel and tourism post-COVID–19 – sustainability will be a defining issue. Moving forward, the sector can be an important entry point for positive change, leveraging the interest in travel and the growing awareness that our actions directly impact human and planetary health.
Short-term challenges produce long-term benefits.
Photo: Club Paradise Palawan
As part of the Transforming Tourism project funded by the International Climate Initiative (IKI) of the German Federal Ministry for the Environment, Nature Conservation and Nuclear Safety (BMU), hotels in the Dominican Republic, Mauritius, Philippines and Saint Lucia are proving that it is possible to develop innovative business models to reduce GHG emissions and improve resource efficiency.
Joegil Magtanggol is the Hotel Manager at Club Paradise Palawan in the Philippines – a hotel that also works closely with UNEP to phase out single-use plastic products and raise awareness of the issue among its guests through the Transforming Tourism project campaign, Phasing Out Problematic Single-Use Plastics. Familiar with the challenges of sourcing large quantities of eco-friendly products while also remaining within a limited budget, Magtanggol describes the transition as a series of "small steps." 
But these small steps have had a big impact. The hotel now furnishes guests with Australian-sourced food-grade bath amenities in refillable pumps; packages takeaway meals in boxes made from biodegradable materials like cassava starch; sources and purifies its own still and sparkling water and serves it in reusable glass bottles.
In addition to eliminating the need to purchase bottled water, the overall reduction in disposable amenities means that there is also less waste – and fewer expenses for its removal from the island. Moreover, adds Magtanggol, while the immediate overhead costs may be greater, "the long-term effect on the protection of the environment is worth every cent."
Protecting travel and tourism means preserving the environment.
For Club Paradise Palawan, the water and shores surrounding its location on the Philippine island of Dimakya are among its most valuable assets. By helping to conserve the marine ecosystem, the hotel is also protecting the spectacular coral reef for which the area is renowned – and continues to attract divers from all parts of the world.
Dimakya island is within the UNESCO biosphere reserve. So reducing plastic waste is not just idealistic; it's also pragmatic. "The best way to amplify this unique selling proposition is to ensure the island is kept clean, green and sustainable," says Magtanggol.
And guest experiences stand as evidence. In 2020, a particularly challenging year for tourism, the hotel was awarded as a Sustainable Destination and named Trip Advisor's Traveller's Choice: Best of the Best.
Together we are stronger.
Through the Global Tourism Plastics Initiative, led by UNEP and the World Tourism Organization (UNWTO) in collaboration with the Ellen MacArthur Foundation, governments, industry and citizens are taking action to reduce plastic pollution and participate in the move towards circularity.
This partnership is part of the systemic change sought by the New Plastics Economy Global Commitment to support the travel and tourism sector in joining these global efforts. Over 500 institutions and businesses representing over 20 per cent of the plastic packaging used globally and governments from five continents are already delivering on this commitment through concerted actions.
Tourism means new adventures, new ideas – and new habits.
As travel becomes easier, we must use the opportunity to do better and preserve and restore pristine destinations for the health of people and planet for years to come. Rethinking our habits – particularly our use of single-use plastic products is not a matter of change at one hotel or even in one industry. Instead, it requires the support of every stakeholder, from governments, policymakers, business owners and consumers.
For more information, contact UNEP Programme Manager, Helena Rey de Assis: helena.rey@un.org
Written by
UN entities involved in this initiative
UNEP
United Nations Environment Programme